Food Testing In Ahmedabad
Food testing is essential as we know that the contaminated food can lead to food poisoning and to ensure the food safety, the analysis of food is extremely important. It follows that the food we consume should be safe in all aspects and should not harm the body. For this reason, it is of paramount importance that the food production process should have a rigorous monitoring and testing component built into it.
Food Testing in Ahmedabad
Food testing and analysis helps in identifying whether the food is rich in nutrition & also helps to check the adulteration or contamination of food. After testing, Food Analysis can be done to improve food safety & quality.
Nutrition Labeling in Ahmedabad
Food labeling is required for most packaged foods. If you are planning to sell your product in a retail market, then you will more than likely be required to comply with FSSAI's labeling regulations.
Sensory Evaluation in Ahmedabad
Sensory Evaluation is necessary to improve the acceptability of your food product among your targeted customers. Your Food Product will be tested for factors such as taste, smell, look, after-effects, feel. Accordingly you may improve your product.
Shelf Life Testing in Ahmedabad
Shelf life is the time period in which the food product is safe to consume and has acceptable sensory characteristics. You can see the shelf life of the product on its label, usually depicted by the mention of 'Use By', 'Best Before' or 'Expiry Date'.
It goes without saying that food is an integral part of our daily lives, and without food, life itself would cease to exist. Food products tested can range from processed foods to agricultural commodities, from the field to the store. Food testing laboratories play a very important role in this whole process. The testing can be done on raw materials and the product itself during its processing and production, as well as the finished products. This gives a rising need for a Complete NABL Accredited Testing Lab in Ahmedabad.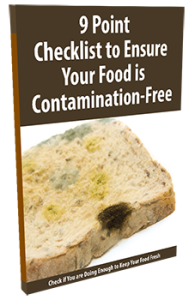 Download a copy of our FREE Guide
"9 Point Checklist To Ensure Your Food Is Contamination Free"
Food testing labs are very important in the entire product approval process, literally from "start to finish". They generate all the food analysis data as well as safety data (from clinical trials) that is required in the application process. Further, Section 22 of the FSS Act indicates that food analysis data should show data on ingredients. Other parameters include label claims (such as in energy drinks, and functional foods like dietary and health supplements) and shelf-life study data.